HR SERVICES
HR HOTLINE 
Utilize our toll free HR Hotline and get confidential guidance on various issues from a certified human resources professional from Sierra HR Partners, Monday-Friday from 8am-5pm. Topics can include, but are not limited to:
● Recru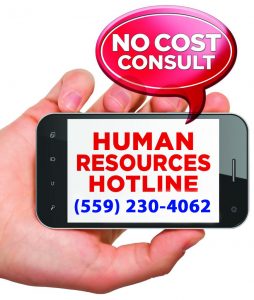 iting, hiring and developing employees
● Background checks
● Discrimination and harassment
● And much, much more!
Check out our informative flyer for more information:
Call today! (559) 230-4062
Complete this questionnaire to schedule your no-cost, one-hour consultation.