HR SERVICES
"We really appreciate having this phone number for our HR needs!"
-Reading and Beyond
Take advantage of our NO COST human resources services to receive information needed to assist your business!
HR HOTLINE 
Utilize our toll free HR Hotline and get confidential guidance on various issues from a certified human resources professional from Sierra HR Partners, Monday-Friday from 8am-5pm. Topics can include, but are not limited to:
● Recru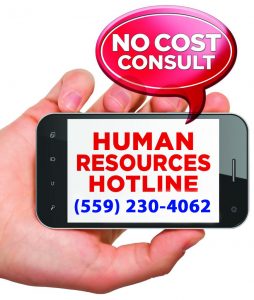 iting, hiring and developing employees
● Background checks
● Discrimination and harassment
● And much, much more!
Check out our informative flyer for more information:
Call today! (559) 230-4062
HR SEMINARS
Join us every month for our no-cost human resources seminars, facilitated by Sierra HR Partners. Learn about various topics that can help you navigate complex human resources regulations and issues, from updates on handbook requirements, to State required harassment prevention trainings. Check out our calendar for our workshop schedule, or go to our front page to see and register for and upcoming seminar!
"You are a wealth of knowledge!"
-California Autism Center